Removing Metal Contamination from Food:
Removing ferrous metal (fine and coarse) from liquids, fluids and slurries with Liquid Pipeline Magnetic Separators fitted with high-intensity Neodymium Rare Earth Tube Magnets;
Cleansing powders and granules of iron contamination with both standard strength Ferrite and high-intensity Neodymium Rare Earth Tube and Grid Magnets, Plate Magnets, Inline Magnets, Bullet Magnets and Drum Magnets. The application and installation dictate the optimum design of magnetic separator;
Detecting ferrous and non-ferrous metals during the production process or once packaged prior to final despatch with a wide range of gravity-fed and conveyor mounted Metal Detectors;
Technical Articles
 See our meTRON™ Tunnel Metal Detector in action
Food Processing Industry Products
Liquid Pipeline Magnets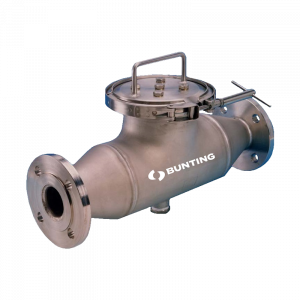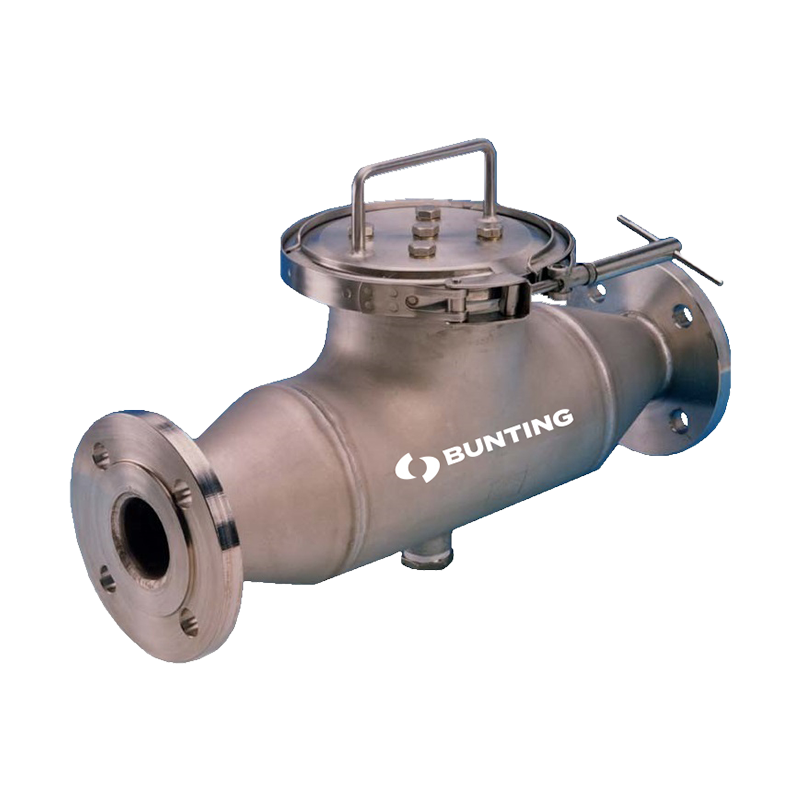 Liquid Pipeline Magnetic Separators or Traps are used for the extraction of fine iron from wet or viscous products conveyed in a pipeline.  Permanent magnetic tubes, positioned in the material flow, attract and then hold magnetic metal contamination.
Plate Magnets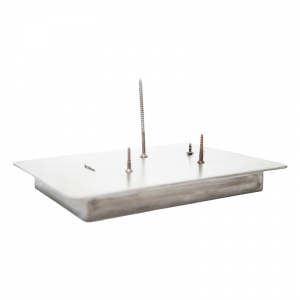 The permanent Plate Magnet is a versatile and cost-effective magnetic separator.  Ideal for removing occasional tramp ferrous metal from conveyed or gravity-fed product flows.  Easily installed with limited maintenance apart from regular cleaning of captured ferrous metal.
Inline Magnets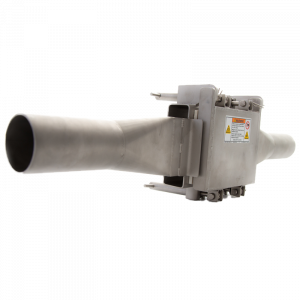 Inline Magnets are versatile and cost-effective magnetic separators that connect into both gravity-fed and pneumatic pipelines.  With a Plate Magnet fitted on one side of the body, the Inline Magnets are ideal for removing occasional tramp ferrous metal from materials transported in pipelines.
Bullet Separators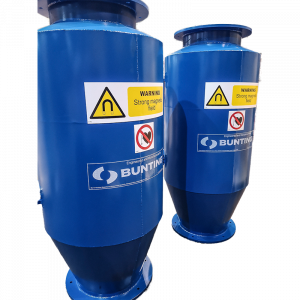 Bullet Magnets are the industry standard for many vertical gravity-fed installations for removing ferrous particles from dry free flowing products.
Metal Detectors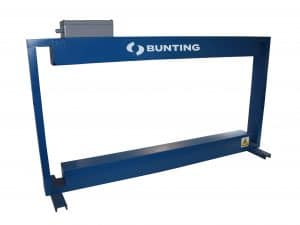 Bunting Metal Detectors sense and remove the presence of ferrous, non-ferrous and stainless metals in the process flow. These units also find metal encapsulated in the individual particle.
Drum Magnets - Permanent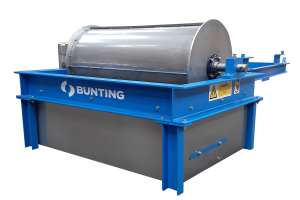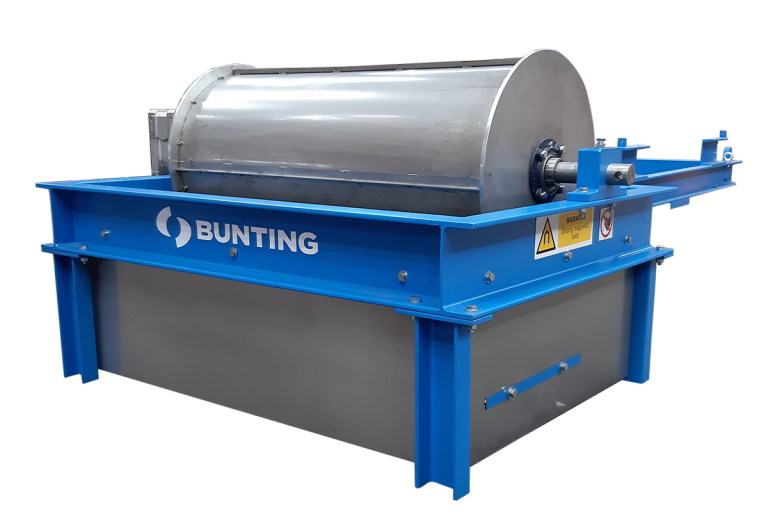 The permanent Drum Magnet is a versatile and robust magnetic separator, perfectly suited to recover para and ferro magnetic materials from dry granular.
Drum Magnets - Electro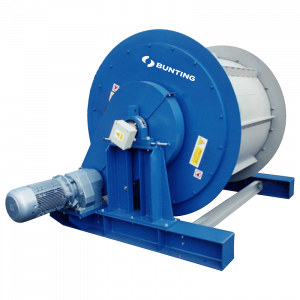 Electro Drum Magnets are heavy-duty magnetic separators used in automobile frag plants, steel slag operations, household refuse facilities, and incineration plants.  They are designed to separate and recover larger-sized ferrous metals.
Pulley Magnets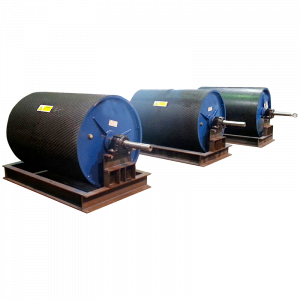 The Magnetic Head Pulley replaces the standard head pulley of a conveyor to provide continuous separation of disruptive tramp ferrous metal from a conveyed product, it is simple to install and requires minimal maintenance.
Overband Magnet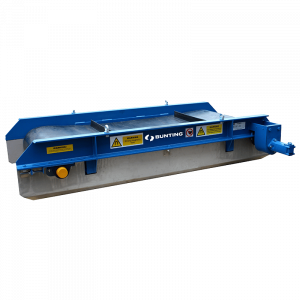 Overband magnets are suspended over conveyors to separate disruptive tramp ferrous metal, they are available as permanent and electromagnetic designs.
Food Processing Metal detector
Food safety alerts announcing costly and reputation damaging product recalls due to the presence of metal are issued regularly by the Food Standards Agency.  The vast majority of these food safety warnings could have been prevented with the correct installation of metal removal and detection equipment.  Magnetic Separators and Metal Detectors, designed specifically for the food and pharmaceutical industries, remove and detect metal during the manufacturing process and prior to the final product leaving the manufacturing facility.  Magnetic Separators use strong magnetic forces to attract and hold large (e.g. nuts and bolts) and fine (abraded stainless-steel) magnetic metal contamination.  Metal Detectors sense all ferrous and non-ferrous metal contamination present in the manufacturing process or once the food product is packed.  Once identified, the metal contaminated product will either be automatically or manually removed.
Metal detection solutions for food industry*
Lorem ipsum dolor sit amet, consectetur adipiscing elit, sed do eiusmod tempor incididunt ut labore et dolore magna aliqua. Ut enim ad minim veniam, quis nostrud exercitation ullamco laboris nisi ut aliquip ex ea commodo consequat. Duis aute irure dolor in reprehenderit in voluptate velit esse cillum dolore eu fugiat nulla pariatur. Excepteur sint occaecat cupidatat non proident, sunt in culpa qui officia deserunt mollit anim id est laborum
Metal Separation for the food industry
Lorem ipsum dolor sit amet, consectetur adipiscing elit, sed do eiusmod tempor incididunt ut labore et dolore magna aliqua. Ut enim ad minim veniam, quis nostrud exercitation ullamco laboris nisi ut aliquip ex ea commodo consequat. Duis aute irure dolor in reprehenderit in voluptate velit esse cillum dolore eu fugiat nulla pariatur. Excepteur sint occaecat cupidatat non proident, sunt in culpa qui officia deserunt mollit anim id est laborum