Master Magnets Look To The Future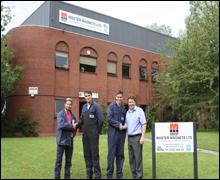 Having just posted some very impressive figures reflecting significant growth over the past twelve months, Master Magnets are planning further expansion for the coming year with the development of the Metal Detection brand and the investment into a new Apprenticeship programme.
Engineering Apprenticeships
Master Magnets Ltd has offered the opportunity of Engineering Apprenticeships to two local young men. David Ingram and Ben Sullivan were the two successful candidates selected from the fifteen applicants provided by The Birmingham Metropolitan College.
Both apprentices will spend time learning their trade alongside experienced, time served Electrical and Mechanical Engineers at Master Magnets Redditch manufacturing plant and attend College on a day release basis to further develop their skills and knowledge. Despite having a comparatively young but experienced workforce, Master Magnets are convinced that investing in apprentices will ensure continuity of skills in the future.
Adrian Coleman, Managing Director at Master Magnets commented:
"I feel it is essential that we safeguard the future of the business by taking steps to invest in young people right now. Both men will receive the very best training and guidance in what is a fast paced, busy working environment. I am delighted that we are able to offer David and Ben this opportunity and I would like to welcome them both to the MasterMag Team and wish then a long and successful career."