Master Magnets Start 2013 With New Eccentric ECS Orders
Master Magnets finished off 2012 with a fantastic final month. Despite having just over three working weeks, December saw the company's Metal Detection division have one of its most successful months of the year.
Magnetic Equipment
Sales of the Magnetic Equipment, which included many more Overband Magnets and an Eddy Current Separator, then took the sales figures to a record high for a December month.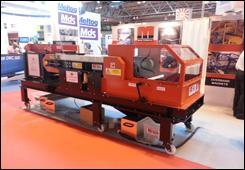 Master Magnets have also had a great start to the New Year since returning to the office this week, with two of our customers placing orders for our latest 'Eccentric' Eddy Current Separators.
In 2011, due to the ever-increasing amount of enquiries for 'Eccentric' Eddy Current Separators, Master Magnets released a new Eddy Current Separator to their range that incorporated an 'Eccentric' rotor design.