Master Magnets Supply Wet Drums To Australia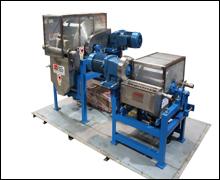 Trading to the global marketplace has always been a huge challenge for European companies, with exchange rates, shipping costs and lead times all having a significant effect on a company's ability to remain competitive. To be considered as potential suppliers outside of the EU, manufacturers have to ensure that their equipment and services are far superior to those of the more local competitors, and in many projects this can be of much more importance to the end user.
Davis Tube Tester
In addition, Davis Tube Tester' was supplied. The Davis Tube Tester is used to evaluate magnetite, ferrosilicon and ferrous scale from effluent and powdered iron. Highly susceptible paramagnetic materials, such as ilmenite and ferberite can also be separated.
Liquids that contain the ferromagnetic material are introduced into the glass tube, which is gyrated utilising a variable speed drive. The magnetics are held between the pair of poles with the non-magnetics being washed free during the agitation. The individual products can then be removed in order to ascertain the materials composition.