Mastermag Boost International Brand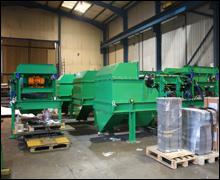 The European debt crisis has had a detrimental effect on the manufacturing industry recently. Having affected the majority of Europe's countries, the financial downturn has lead to many companies having to put their projects on hold.
Despite Europe's troubles, Master Magnet's equipment sales have continued to thrive with an ever-increasing amount of Magnetic Separators and Metal Detection equipment being sold to Asia, the Middle-east and Australasia.
International Projects
Recent international projects have included the manufacture of four Eddy Current Separators for an organic fertiliser process in Thailand. Each of the 1250mm wide separators are to be used for the separation of non-ferrous metals such as aluminium from the fertiliser.
In addition to the ECS units, the company also asked Master Magnets to supply four Overband Magnets for the continuous removal of any ferrous metals.
Other notable orders include some large Overbands that have been supplied for coal processing applications in Indonesia as well as a large quantity of manual-clean Suspension Magnets that were supplied for a diverse range of applications in Dubai. The sugar industry in Egypt and Pakistan has also been a growing market for Mastermag, with many new orders being placed by some of the large companies that are located in these regions. These orders have been obtained due to the hard work of our reputable Agents.
Sales Manager, Phil Tree writes: "As an active international sales operation, our overseas Agents have collectively helped us to significantly increase our export turnover outside Europe. In the interest of increasing our export turnover even further, we will continue being proactive by promoting our company's brand and its product range, aiming specifically at emerging markets such as South America, India, the Middle East and Asia Pacific regions."