Magnetic Liquid Traps
Magnetic Liquid Traps or pipeline traps remove small and large ferrous metal contamination from materials transported in pipelines. Inside the food-grade stainless-steel body, either Tube Magnets project down from the lid into the material flow or a single or double Plate Magnet is positioned inside the body. The high-strength Neodymium Magnets capture both fine iron and larger tramp metal (e.g. nuts, rust, etc).  Designed to fit 2" (50.8mm), 3" (76.2mm) and 4" (101.6mm) diameter pipelines, with special ends fitted for other pipe sizes.
Description
The Magnetic Liquid Trap features either strong permanent Tube Magnets or Plate Magnets to capture and hold fine to coarse ferrous metal contamination as well as work-hardened stainless-steel.  The versatile stainless-steel Magnetic Liquid Trap is suitable for any position or orientation (vertical or horizontal) in a pipeline.  Different fittings are available to easily connect the Magnetic Liquid Trap into any pipeline.  The Magnetic Liquid Traps are available in a range of sizes and designs to suit both high temperature and sanitary environments.  Standard models are designed to connect into pipelines of 2" (50.8mm), 3" (76.2mm) and 4" (101.6mm) diameter pipelines, with special ends fitted for other pipe sizes.
Operation
In operation, the liquid or slurry enters the T-shaped Magnetic Liquid Trap and is pushed through the magnetic field of a tight grid of Tube Magnets or across the face of a strong Plate Magnet.  The magnetic field attracts the ferrous particles onto the surface of the magnet, where it is securely held.  Periodically, in accordance to the level of contamination, the lid of the Magnetic Filter Trap is removed and:
The Tube Magnets (which are attached to the lid) are wiped clean;
The Plate Magnets (positioned inside the Trap body) is cleaned;
Temperature
In many applications, either the product or the cleaning cycle exposes the magnets to high temperatures.  Such high temperatures have a detrimental effect on the magnetic performance.  For higher temperature applications, Bunting recommends special NHIT or N35UH magnets, which maintain performance.
Expected Magnetic Performance Characteristics for Elevated Temperatures

Models
MLT-C – A Magnetic Liquid Trap with strong neodymium Tube Magnets.  This design of Magnetic Liquid Trap is ideally suited for pipelines transporting non-fibrous fluids, where any solids do not exceed 13mm in size.  Typical applications in the food processing industry include chocolate, non-lumpy soups, sauces and baby food.  The Magnetic Liquid Traps are also used widely in the ceramics industry to remove iron contamination from slips and glazes.
MLT-CSC – An easy-clean version of the MLT-C with stainless-steel sleeves fitted over the Tube Magnets for simply and quick removal of captured magnetics.
MLT-SP & MLT-DP – Plate-style Magnetic Liquid Traps are available as either a Single Plate Magnet (SP) or Dual Plate Design (DP).  Ideally suited for removing ferrous particles from viscous and fibrous liquids, and liquids containing larger suspended solids.  The internal design directs contaminants into the deep magnetic field of the Plate Magnet where any ferrous or even work hardened stainless steel is captured, held and protected from the wiping action of the liquid flow.  A deflector creates a gradual change in the direction of flow causing agitation of the product and exposes contaminants that would otherwise be blocked by suspended solids.
Magnetic Liquid Trap Typical Flow Rates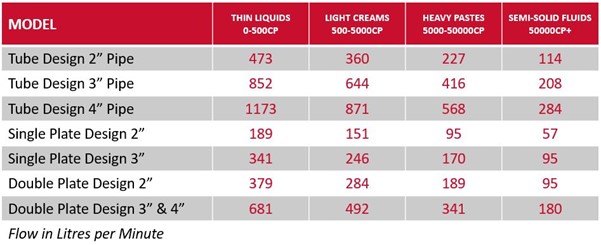 Each Magnetic Liquid Trap uses a gasket to seal the lid.  The specification of the gasket depends on the application, as shown in the following table:

 Applications
Magnetic Liquid Traps are extremely versatile and are subsequently used in a wide range of applications including:
Food processing (in a sanitary design):

Molten chocolate;
Baby food;
Soups;
Sauces;
Tinned foods;
Slurries;
Pet food;

Recycling;
Ceramics:
Paper and Cardboard