Free Magnetic Separation Audits
Making sure your magnets are operating at optimum separation levels.
Customers have frequently asked for it, so now Bunting is able to offer free audits on magnetic separation equipment. The audit includes:
Checking each magnet for magnetic strength

Checking the structural integrity of magnets

A location review

Checking the effectiveness of the cleaning regime
Fully trained and experienced Bunting engineers will conduct each audit. These engineers will have in depth knowledge of the relevant industries and applications as well the installation and manufacturing processes.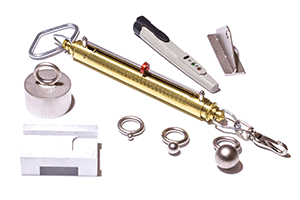 Checking the Magnetic Strength
Although it is uncommon for magnetic separators to lose strength, there are certain circumstances when magnetic strength can be significantly reduced. Loss of strength can occur when the magnet:
Has been damaged in some way – dropped or struck etc.

Has been exposed to very high temperatures such as occur when steam cleaning etc.

Has suffered a loss of structural integrity – perhaps if it has been cleaned with a solution that may have been acidic or alkaline.

Has been superseded by newer, more effective models.
When there has been a loss of magnetic strength, it is common for tramp metal separation to be less effective. The result might mean that equipment gets damaged more frequently or the product itself lacks its usual quality – which might, in turn, result in customer complaints.
A range of equipment is used to check and record the strength of each magnet. This includes the Bunting Magnetic test kit and if needed, a Gauss Meter as well.
Checking Structural Integrity
If exposed to acidic or alkaline solutions, the welds on the magnetic separators can sometimes deteriorate. Cracked welds can also occur if the magnets have been damaged in some other way, such as being dropped. When the weld fails, it allows for liquid to enter and if this occurs, the magnetic separator could fail and overall magnetic strength is likely to be compromised.
It is also possible that bacteria can gain access through a cracked weld which will inevitably lower the quality of the production process. As the audit is conducted, the structural integrity of magnetic separation will be checked.
Review the Location
It's possible that a change in process or even change in the product might mean that the location of the magnetic separator (and even the kind of separator used) is no longer the best for the application required. The audit will cover this and assess whether the application and method of ferrous metal separation are working effectively. The audit will also report any potential improvements that have been highlighted and could be implemented.
Check the Cleaning Regime
The cleaning regime is very important. The design of a magnetic separator is intended to retrieve and keep hold of magnetically susceptible particles until they are cleaned – either manually or automatically. If a separator that is designed to be manually cleaned doesn't receive regular cleaning, the performance of the separation will undeniably be affected. The audit team will conduct a review with the maintenance and production team to establish what the current cleaning regime is and to suggest any improvements that can be made in order to achieve optimum magnetic separator performance.
The Audit Report
On completion of the audit, Bunting will submit the report along with any findings, recommendations and recorded analytical data. This is an independent audit report and is suitable to be used in conjunction with a company's internal health & safety and quality checks. It is fairly common for the findings of the report to be issued to customers when feedback is requested.
If you need to book a completely FREE audit of your magnetic separation equipment, you can either contact us via our website or call us on 01527 65858. However, please note, where an audit takes longer than a single day, a nominal charge to cover any resultant costs will be applied.