Forklift Magnetic Sweepers
Forklift or Pallet Truck mounted Magnetic Sweepers clear damaging ferrous metals large surface areas such as car parks, warehouses and factories.  Such metal damages vehicle tyres (e.g. causing punctures) and is an injury risk to employees (e.g. trip hazard and impaling injuries).  There are three different designs to suit specification applications including the Standard Forklift Magnetic Sweeper, an Easy-Clean design, and the handheld or forklift mounted Combi Magnetic Sweeper.  All three designs use permanent magnets to generate a strong magnetic force that lifts and holds ferrous metals such as nails, screws and swarf from floors and car parks.
The standard range of Forklift Magnetic Sweepers is available to purchase online via the e-magnets website. Custom designs to suit specific applications are also available.  For further details, please contact us on 01527 65858 or email Barry on sales.redditch@buntingmagnetics.com.

Description
Standard Forklift Magnetic Sweeper
The Standard Forklift Magnetic Sweeper is simple in design, easy to operate, robust and extremely effective at clearing ferrous metal from the surface of large areas such as car parks, warehouse floors, and manufacturing facilities. The magnetic force is produced by a optimally-designed permanent magnetic block, generating a deep and powerful magnetic force to lift and hold large and small ferrous metals.
In operation, the Forklift Magnetic Sweeper is easily mounted onto the forks of universal forklift trucks using two 180mm wide pockets. Once mounted, the Sweeper is fixed into position with two safety brackets.
The permanent magnetic block is constructed with a heavy-duty mild steel back bar enclosed in a stainless-steel case. This provides durability for arduous working environments. Fork Mounted Sweepers are available in a range of widths between 600mm and 2100mm, although bespoke designs are also available.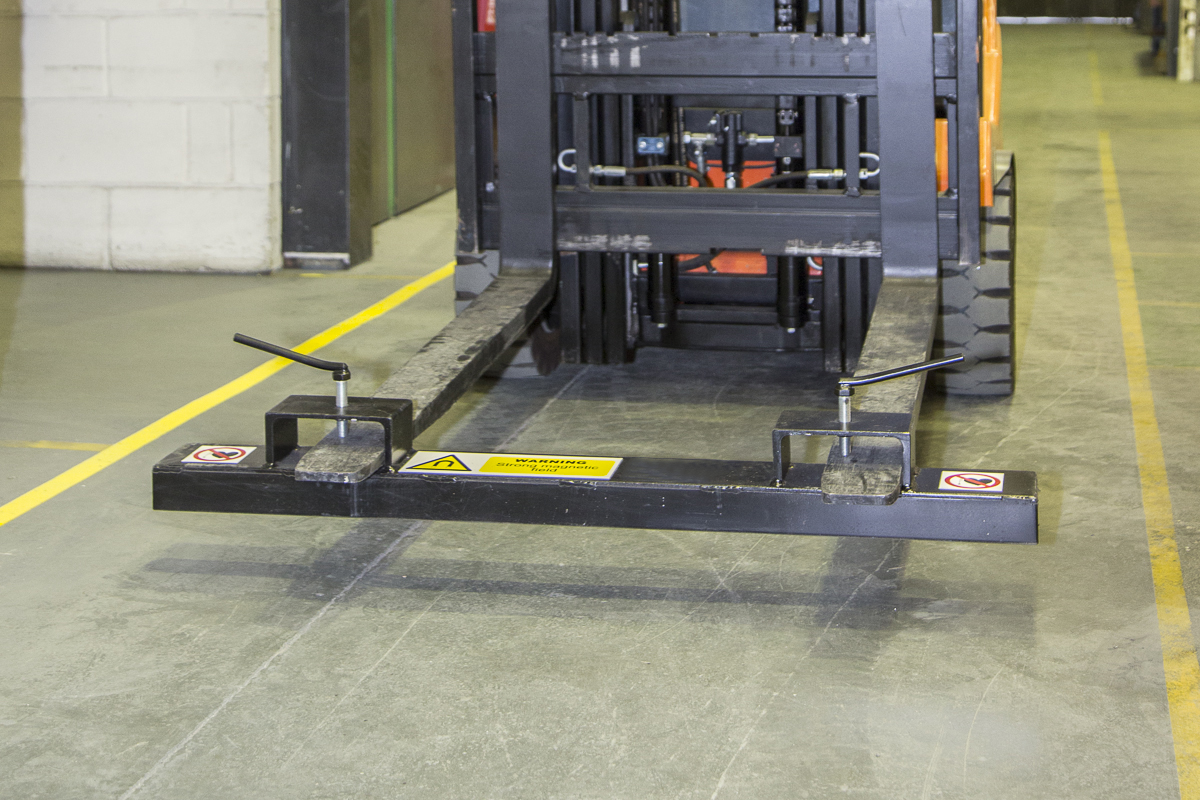 Easy-Clean Forklift Magnetic Sweeper
The Easy-Clean Forklift Magnetic Sweeper is an enhanced version of the Standard design, providing operators with a special non-magnetic stainless-steel plate for the easy removal of lifted and captured ferrous metals.
The Easy-Clean Forklift Magnetic Sweeper is available in a range of widths between 650mm and 2150mm wide, although bespoke designs are also available.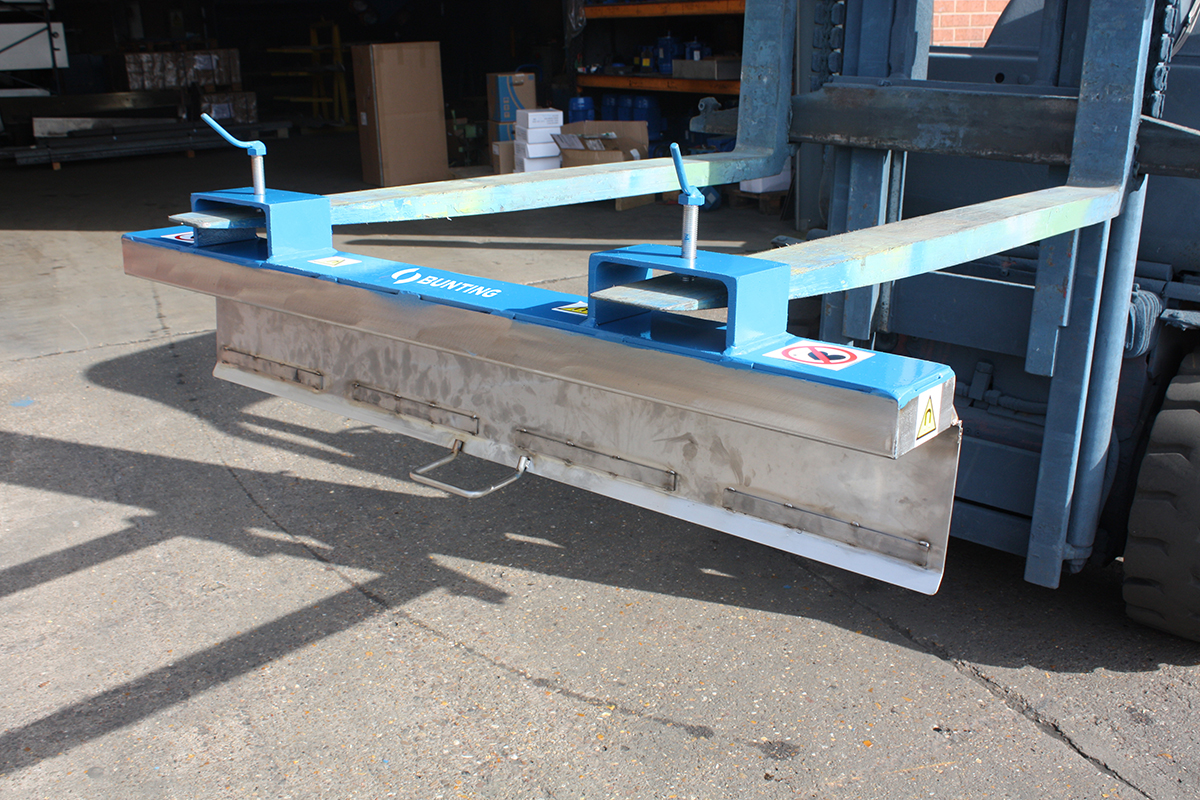 Combi Magnetic Sweeper
The Combi Magnetic Sweeper is designed for versatility, either mounted on the forks of a forklift truck or used as a handheld version with the quick and easy attachment of a handle. The powerful permanent magnetic block produces a deep and strong magnetic field to lift and hold any dangerous ferrous metal debris.
When mounted on a Forklift Truck, the Combi Sweeper features two mounted brackets for the forks. Once in place, the forks are secured with fixed bolts. The standard distance between the midpoints of the brackets is 70cm, although bespoke versions are available on request.
When a forklift is unavailable or the floor area is difficult to access with a vehicle, the Combi Magnetic Sweeper is quickly and easily converted to a manual handheld version. The handle, which is supplied with every Combi Magnetic Sweeper, is simply bolted into place.